<!debut du menu>

Blacksmithing
and Cutlery
by Gérard HEUTTE

<! = HR en couleur ad hoc>






<! = HR en couleur ad hoc>





<! = HR en couleur ad hoc>







<! = HR en couleur ad hoc>


<! = HR en couleur ad hoc>





<!fin du menu>

Bibliography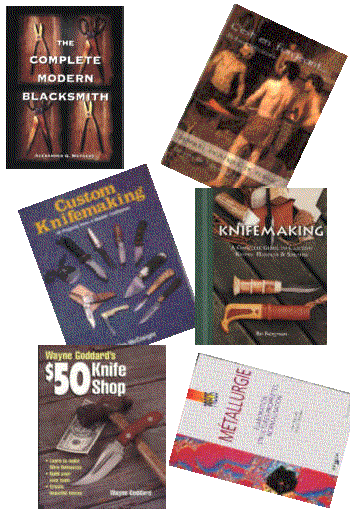 This page presents books about blacksmithing, cutlery and some related fields. The comments engage only me! My opinion is founded on my needs and what I have learned in these books. You may have a different opinion according to your approach, your practical and theoretical level and/or your needs.

I, in a subjective way, have noted the books as follow:


= average /

= excellent /

= fantastic

For cost, I give a raw indication:


= accessible, about 15 to 20 euros


= average, 20 to 35 euros


= expensive, 40 euros and more

Some horrors, rubbishes and rags for which I regret having spent some money do not deserve to be quoted.

The tables of content of the books are provided in the source language, with between brackets the number of pages of the chapter.

The program for the reading:
> Books on cutlery
> Works on blacksmithing
> And some miscellaneous books.
> And the essential journals

> And to supplement the books, a multimedia part, with DVDs and documents to be downloaded.