<!debut du menu>

Blacksmithing
and Cutlery
by Gérard HEUTTE

<! = HR en couleur ad hoc>






<! = HR en couleur ad hoc>





<! = HR en couleur ad hoc>







<! = HR en couleur ad hoc>


<! = HR en couleur ad hoc>





<!fin du menu>

Workshop (and tools)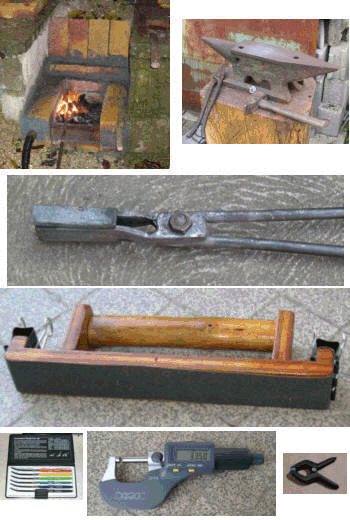 Without workshop, no blacksmith and no cutler! The price of the new equipment being exorbitant, reprocessing and making will render great services. If a certain number of tools are impossible to circumvent, it is completely possible to buy a great number on second hand or make some of them yourself.

Here first of all a brief presentation of:
> Common tools useful for blacksmiting and cutlery.
> Specific tools for the work of leather .

Then, some making:
> Making a forge for cutler known as " U-shaped forge".
> Making a rustic model of forge, Ground forge.
> Blower for forge with the engine of a vacuum cleaner.
> Installation of a stack to replace or supplement an anvil.
> Quick making of blacksmithing tongs.
> A Sanding block adapted for cutlery .
> To help folder's design, here is a Folder's gizmo .
> For those working with files, a Ricasso clamp .
> To hide washers, a Counterbore cutter .
> Accessories, gadgets and home made tools.
> To replace the stamp, here is an electroetching unit .
> For tempering, how improve an oven .
> A machine for stonewash finish.
> A system of water bath for acid.

And to finish the mandatory one:
> Safety rules.